Rooms in Your House

Now that you have all these ideas gathered that we talked about in this previous post – We're Going to Build, Now What. Pick your most favorites and grab a pencil and paper! We are going to start by making a list of the rooms in you house and what floor they will be on. We need to remember that not every floor plan works for every family or lifestyle, so lets create yours!
What style of house do you like the most? Me I love ramblers (main level with a basement) or a 2 story, with a basement. I also like the country/farm house look on the exterior. This is important so you know how many floors you are needing to plan and design.
Next we need to decide what rooms go on which floor. Let's make a list of what we want on each floor.
MAIN LEVEL
The house I'm designing for us to build is a rambler with a basement, these are the rooms I'm putting on my main level in no particular order. I'm also including pictures of these rooms as ideas, you will have your own ideas and likes.
Laundry Room
Do you want the laundry room on the same floor as all the bedrooms (recommended). Some people really like their laundry room in their basement, me not so much. I'm planning on putting my laundry room just off my mudroom and kitchen. I'm there in that area most of the time anyway. Besides who wants to have dirty clothes drug through the house from outside!
I am also planning a laundry room for the basement, since this is where most of the kids bedrooms will be and they are old enough they can do their own laundry. With it in the basement we won't be fighting over the washer and dryer all the time.
Another thing to think about with the laundry is do you want a room or just a closet? I prefer a room, it's much easier to hide the clothes that need to be washed or folded ;-). It could also be a place to fold and repair clothes.
Mudroom
We didn't have a mudroom in our last house and I wished we did. This room doesn't need to be very big, but big enough to keep the coats, shoes, boots and such. I've seen many mudrooms with lockers or cubbies for each persons stuff. I like the open look of the cubbies, but I'm not sure if we will build them at first or after we have been in the house for a while.
Image via DecorPad
Kitchen
I like my kitchen right off the garage. This way I don't have to carry the groceries all the way across the house. This house I've designed you enter from the garage into the mudroom and then into the kitchen.
What layout do you like? There is galley/walk-through, u-shape, l-shape and one wall. You can also choose to have a peninsula or an island as well, depending on the layout you choose. My preference is a somewhat u-shape with an island.
What kind of pantry do you want? A walk-in one, a corner one, or just a closet type? I'm going for the walk-in.
Dining Room
Some people put more than one dining room in their house (formal and informal) and they also add a breakfast nook. We don't have that much money, nor would we use the formal dining room or breakfast nook that often. I'm good with stools at the island for my breakfast nook.
Do you want an actual room or part of the kitchen? Do you like the open concept or great room concept and have the kitchen, dining room and living room all open together. I'm liking the open concept idea of all three rooms open to each other.
Living Room
This goes a little with the kitchen and dining room, especially if you have an open concept plan. I'm not really going to say to much at this time about this room, just that we are putting it on this level.
Master Bedroom/Suite
This is an important room! at least in my opinion. It is important to place this room away from the main living areas, or at least make sure that they are separated by more than just one wall. In this house I think I'll put another bedroom or bathroom between the master bedroom and the living room.
Do you want a walk-in closet? I know I do! It's a great hiding place for mom when she needs a time out.
Master Bathroom
Do you want 2 sinks? walk-in shower? soaker or jetted tub? Toilet in a room by itself? We want a walk-in shower with a soaker tub. I don't think we'll put the toilet in a room by itself to save space. We only need 1 sink, we don't usually get ready at the same time and if we do we are pretty good at sharing spaces.
Photo by Xstyles Bath + More, Inc. – Browse bathroom photos
Office
I wanted to put the office just off the kitchen since I seem to spend a lot of time between the office, the kitchen and the laundry room. We have also thought about making it big enough that both hubby and I can use it as well as the kids. I'm starting to rethink that idea a little. I'm thinking I want my own space and maybe it will be better to put it away from the busy areas, like up in the bonus room.
Other bedrooms
We have been planning a room on the main level for hubby's mom for when she gets to the point she can no longer live on her own. So this room will go on the main level. We plan on putting all the kids bedrooms downstairs!
Bathroom
You need to plan at least one bathroom for guests to use on the main level. I've thought about a half-bath just off the garage/mudroom, but again money talks. We will just be putting one bathroom other than the master on this level.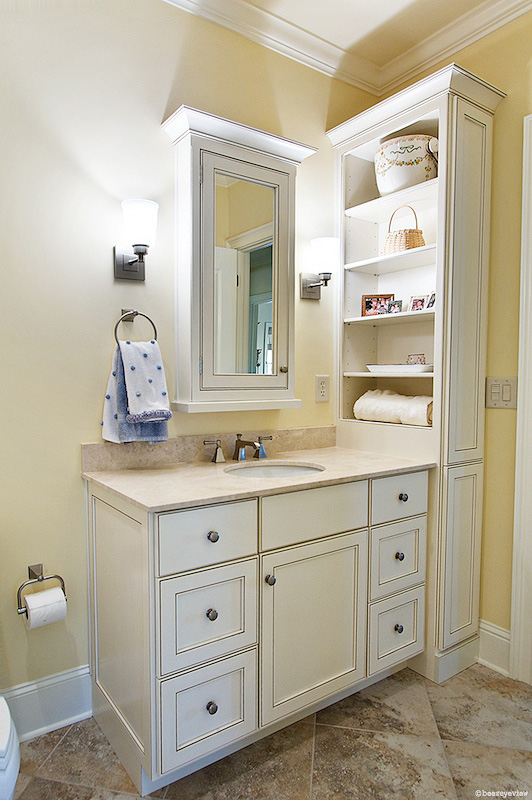 Image via Home Talk
Storage
Do you need a linen closet? A coat closet for guests? I know I need a coat closet, the linen closet just might have to be incorporated into my closet or in the laundry room.
Image via Boxwood Clippings
Other Rooms
We would like to put a "formal front room" or a "piano room" on this level. This room won't get a lot of use, and we don't have a piano right now but will in the future, so this room is up for debate whether we keep it or not. Money may tell us to eliminate it.
Image Via Studio 7
BASEMENT
(this could also be an upper level if you can't have a basement)
Bedrooms
I know that we will need at least 4 bedrooms downstairs. I really like my kids sharing rooms, I think it helps them learn how to get along. But when they grow up and get married who knows if they will stay close so I want to have a room for them to come home to later in life. We are hoping we never have to move again, can you tell?
How many bedrooms do you need on this level? What type of closets do you want in each bedroom?
Image Via Home DIT
Bathroom
You will need at least one bathroom on this level also. We are planning on having just a walk-in shower, a toilet, and a cabinet with sink. We might have enough room in this bathroom to put a linen closet or such.
Does this give you any ideas?
Photo by Pfeffer Floors To Go – Look for bathroom design inspiration
Family Room
Our kids like to have parties at our place so we want to make sure that we have plenty of places for the kids to hang out. This family room will be pretty good sized. We think we will add in the future either a wet bar or a small kitchen, then they won't have to run up and down the stairs all the time.
Image Via Home Epiphany
Utility room
We have chosen to put our utility room in the basement. This room will have the furnace and a/c unit, the water heater (we want instant), and water softener (if we get one), and the other washer and dryer. We have talked about putting up a wall and door to separate the washer and dryer from the other utilities but we'll see if that happens. I'm also thinking of putting in a doggie door and having the litter box in the utility room, we'll see if I win that one.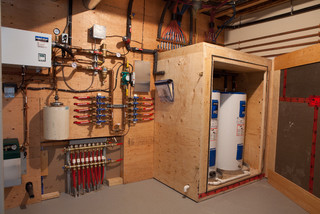 Photo by Habitat Studio – Search home design pictures
Storage
This is a good place to put a storage room, so good that I think I'll have 2 or 3.
I am planning a cold storage under the front porch, a storage room just outside the door for the stuff that doesn't need to be kept cool like toilet paper, paper towels and such.
I would also like to add another storage room for the other stuff that needs to be stored like the holiday stuff, clothes to be passed down, camping stuff and whatever else needs to be stored.
Image Via The Wood Grain Cottage
Access
Another thing to think about in the basement is access.
Access from each bedroom and the main room (family room) there are codes that require a certain amount of "egress" from each living area. A window that measures 4 feet by 4 feet is a great size for the bedrooms and counts as the necessary egress.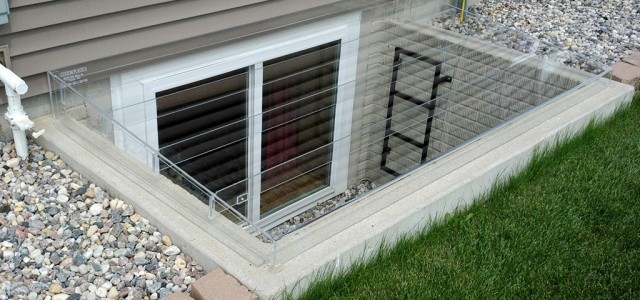 Image via Pace Landscape
We would like to have a walk-out basement. This is where you walk out of the basement to ground level. The lot that we want to build on has a slope in it so we want to place the house on the slope so that the back of the basement opens to ground level. If walk out is not an option for you, you could just make sure that you have large enough windows in the family room to count as egress. Or, you could have a door but then have stairs up to the ground level.
We have also looked into having access to the basement from the garage. As of right now it looks like the access will be into the "other" storage room. I think this access is a great idea, you can take the items for storage right from the garage down the stairs without having to go through the whole house. And when it comes to storing those Christmas or birthday gifts you can get them in the house without the kids knowing.
OTHER FLOORS
Bonus Room – Above the Garage.
Hubby really wanted a bonus room above the garage, so I've had to figure out how to get access to it. Which has actually been in my favor, I get a bigger laundry room!!!
Image via Fine Line Main
That's all I have planned for our house. What rooms do you have planned for your house? What style do you want?
Now we need to start putting on paper where we want them in correlation to the other rooms.
Get the Latest
Subscribe to get our latest content by email.